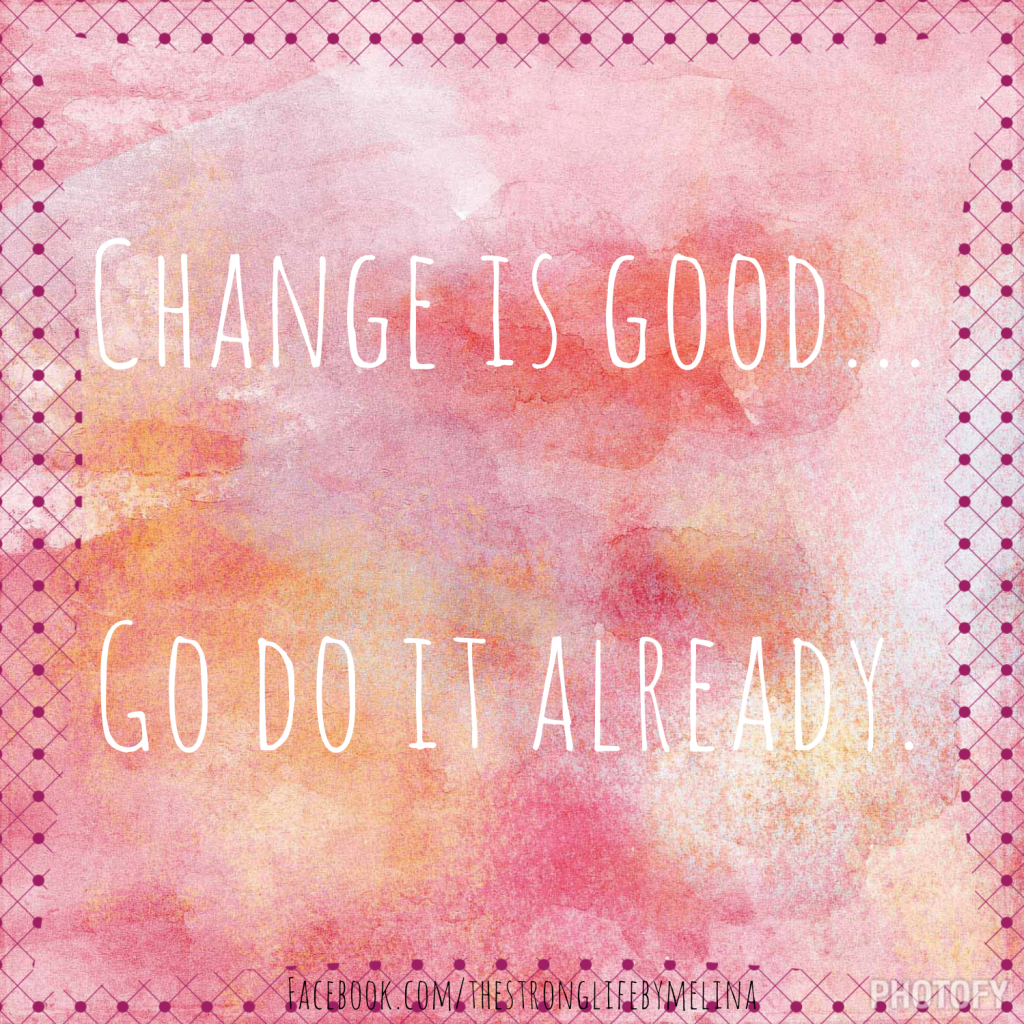 They say change is good. And it is when you got it all figured out and all the pieces have finally fallen into place. Change, like constructing a new house, begins with a mess, a lack of vision of the final product when you look at it on the surface. But below that change is the blueprint. The plans that actually reveals that the mess is indeed organized because it is meant to create something beautiful.
I have reached a new stage in my life after my 29th birthday last month that had me freaking out a little. All of a sudden I am aware that my youth isn't going to last forever...

(you mean I wasn't always just going to be in my twenties with plenty of time to figure out what to do with my life?)

Starting over in my life, AGAIN, financially, emotionally, physically is hard. But I am alive! God is not finished with me yet if I still woke up this morning and am here to type this post!
I'm a mess right now. I really am. But I am ready to make changes. I have a new challenge for myself to be STRONG again. This last year in my twenties will be my year and to do that I am going to do a fun challenge that I will document about on the blog each month as I get closer to my next birthday.
I have a Twenties Bucket List that I have to complete before I am 30!
Things on this list are to help me stay focused on me, to be positive and to challenge me to really live my life rather than going through the motions. Each month will be a new bucket list item I have to complete.
This month of November's challenge was to start my blogging again. So here I am!
I'm a writer so I must write. And I thought it would be fun to use my favorite platform to tell my story as I go through this journey of my monthly bucket list items.
I haven't planned out every month yet but here is what I have planned so far:
November – Return to blogging for real this time ...CHECK!

December – Join a gym and commit to a workout program

January -

February -

March -

April – Take the Health Coach Certification Exam

May -

June -

July – Paddleboard/Snorkel & Swim with Dolphins in Key West

August - Get a Tattoo

September – Run a 5k... or a 10k

October – New Wardrobe for my Vegas trip to celebrate my 30

th

and see Britney Spears' show.
I need your help with ideas for the other 5 months that I don't have anything for! What are some things that I should do before I turn 30? What are some things you have always wanted to do?
Give me some ideas in the comments below or LIKE The STRONG Life on Facebook and share your ideas for a Bucket List!